---
Apply to Work at JJC
Search JJC employment opportunities
---
Important COVID-19 Vaccination/Testing Requirements
In accordance with applicable COVID-19 Disaster Proclamations and Executive Orders issued by Governor Pritzker, all JJC employees must be fully vaccinated against COVID-19. All employees working on campus who are not fully vaccinated against COVID-19 for any reason are required to provide a negative test a minimum of once per week.
---
JJC Seeking New College President
The search for JJC's 10th college president is underway. Candidates must be focused on diversity, equity and inclusion, have financial acumen, be a strong communicator and be committed to engaging with our community. JJC's current president, Dr. Judy Mitchell, will retire on Aug. 31, 2022.
More on the JJC Presidential Search
Why is JJC a Great Place to Work?
What We Value
Qualified and diverse faculty/staff
An innovative, collaborative and inclusive educational community
The knowledge and experience each employee brings to the workplace
And more
We Support Our Employees
Benefits
Excellent terms and conditions of employment
Outstanding health and welfare benefits
Programs for a secure retirement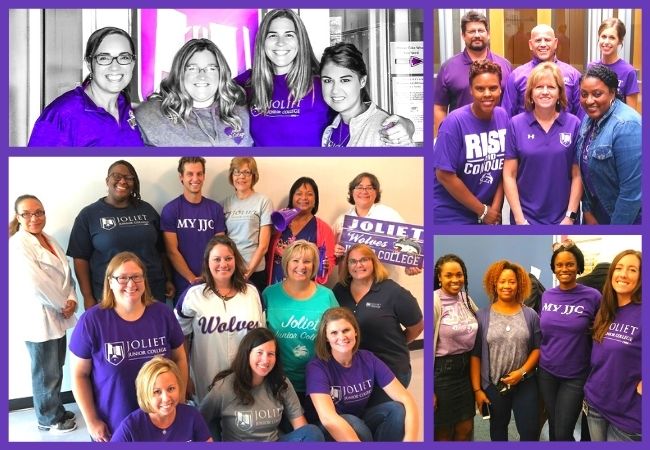 Our JJC Family
As an employee, you'll become a part of the JJC family. Many of our employees have worked at our college for years, which says a lot about our campus climate. Check out what our employees are saying and some cool events our employees have taken part in over the years below.
What Our Employees Are Saying About JJC

"I love JJC! From the very beginning, it's been such a warm and welcoming environment. Everyone has helped me so much from the time I started as an intern until now, and my connections have only grown. We have a great support system here. It's like a family environment because everyone is there for you when you need them."

-Jordan Herath, Marketing Assistant, Marketing & Creative Services

---

"I was drawn to JJC because of the impact it has in the southwest suburbs of Chicago. JJC offers opportunities for young individuals just starting their independent lives/careers as well as seasoned employees looking to enhance their skills or progress to the next level of their career."

-LeVon McAllister, Technology Support & Media Services

---

"My passion to help others is what attracted me to JJC. I started in February of 2013 and have seen many changes since then. The diverse culture is what I like most about our college. As an immigrant myself, I have a special connection with our diverse population."

-Flor Villasenor, Resource Clerk, Academic Intervention & Support
3 Things You Didn't Know About JJC
We Are The Nation's First Community College.
As the first community college in the U.S., we have been guiding students to brighter futures since 1901. Serving more than 30,000 students in credit and non-credit classes each year, we are proud of our faculty and staff for their excellent leadership.

Some Pretty Cool Alumni Call JJC Their Alma Mater.
From Harry Geris (Olympic wrestler) to Phyllis Reynolds Nayor (bestselling author) and John Houbolt (aerospace engineer), JJC is the alma mater to many prestigious alums. Visit our blog to learn more about our famous alumni.
Compliance & Safety
Clery Report & More

JJC is committed to assisting members of the JJC community in providing for their own safety and security. The newly updated CLERY security compliance document is now available at the JJC Police Department page (PDF), along with other important safety information. If you would like to receive the ASR in booklet form, you may stop by the Campus Police Department located on Main Campus in G 1013 or call Campus Police at 815-280-2234. The website and booklet contain information regarding campus security and personal safety such as crime prevention and reporting, police law enforcement authority, disciplinary procedures and other related security policies. They also contain information about crime statistics for the three previous years for all JJC campuses, property owned and controlled by JJC District 525 and on public property immediately adjacent to JJC campuses. This information is required by law and is made available by the Joliet Junior College Police Department.

Joliet Junior College is committed to maintaining an environment that is safe and free from discrimination, harassment, and misconduct on the basis of sex, which includes sexual orientation or gender-related identity. The College prohibits sexual harassment, sexual assault, sexual misconduct, stalking, and relationship/dating violence has put measures in place to ensure a safe and healthy educational and employment environment, and meet legal requirements in accordance with: Title IX of the Education Amendments of 1972 (Title IX), which prohibits discrimination on the basis of sex in the College's programs or activities; relevant sections of the Violence Against Women Reauthorization Act; Title VII of the Civil Rights Act of 1964, which prohibits discrimination on the basis of sex or sexual orientation, including gender-related identity; and the Jeanne Clery Disclosure of Campus Security Policy and Campus Crime Statistics Act (Clery Act), which requires timely warning to the community of certain immediate threats.

Any inquiries regarding the College's polices or procedures should be addressed to:

Title IX Coordinator
Dr. Tracy Morris
1215 Houbolt Rd
A3113
Joliet, IL 60431
Email: tmorris@jjc.edu
Phone: 815.280.2704