Find the learning environment you were meant for
Business

---

From business administration to accounting, marketing, human resources and many more, JJC's Business Department offers a diverse range of concentrations, some of which include degrees and certificates that can be earned entirely online. Several degrees are a part of the "Accelerate Your Degree" program, which allows you to graduate in as little as 18 months.

Learn More About JJC's Business Department

CIOS

---

Do you have the creativity and technical skills to become a mobile app developer, website designer or computer engineer? You'll learn a variety of computer languages and gain hands-on experience for your future career as a JJC computer programming major. This degree can be earned in the classroom or exclusively online.

Learn More about JJC's CIOS Program

Welding

---

Get hands-on training in JJC's welding lab to land a job in the maintenance, structural or pipe welding field. JJC offers six specialized welding certificates in addition to an associate degree. Welding job opportunities are on the rise because many current welders are nearing retirement age.

Learn More About JJC's Welding Program
Search our Programs & Courses
Putting Students First
Whether students choose to attend JJC so they can graduate and enter the workforce immediately or transfer to a four-year school, our priority is to focus on each student as an individual and help them grow.
The Financial Aid Office administers a comprehensive program of grants, loans, and work-study aimed at helping students bridge the gap between their family's resources and the cost of attending JJC.

Offering high school equivalency preparation, basic skills review, English as a second language, and more to those age 16 or older. Giving you the tools, resources, instruction, and support necessary to achieve your individual, academic, and employment goals.

Our team helps you adjust to college life and meet your educational goals. In addition to learning about JJC at New Student Orientation, we're here for you throughout your first year and beyond.
Our students speak out
Sante Deserio
I think the environment at JJC has helped me grow, especially because of the individual attention professors give you in class.
Read More
David Kevish
In my time at JJC I found the college offers many personal development and leadership programs to students that I did not know existed here.
Read More
Make Joliet Junior College your first choice.
---
Joliet Junior College is an innovative and accessible institution, dedicated to student learning, community prosperity, cultural enrichment, and inclusion. Joliet Junior College delivers quality lifelong learning opportunities empowering diverse students and the community through academic excellence, workforce training, and comprehensive support services.
Join Our Learning Community
What's happening at JJC
Joliet Junior College President Dr. Judy Mitchell will address community members, stakeholders, and local...
Read More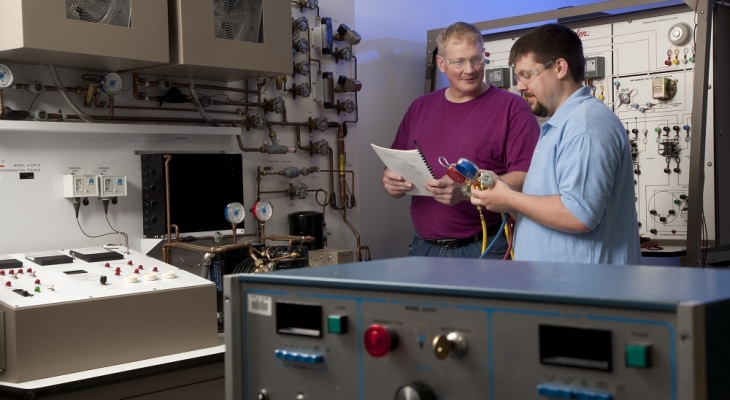 Learn about careers in cybersecurity, artificial intelligence research, mechanical production, and many others...
Read More