---
The Mechanical Production Technology program provides students with an understanding of the fundamentals of manufacturing through both hands-on experience and study of theory.
Mechanical Production Technology program areas of study include precision machining practices, maintenance machining, CNC/CAM/EDM, stamping dies, plastic injection mold making and CADD.
Degree Information
Visit the JJC catalog for Mechanical Production Technology degree requirements.
Certificate of Achievement
Mechanical Production Technology
Gainful Employment Disclosures
What are Gainful Employment Programs? An educational program must lead to a degree at a non-profit or public institution or it must prepare students for "gainful employment in a recognized occupation."  Information is presented to the student about the length of each program, its estimated cost, and a way to obtain further information about the kinds of jobs available for those who complete this program and participate in the student financial assistance programs. Whether you are a current student or a prospective student, we hope that this information is helpful in making informed choices about your career and education.
What Will I Learn?
When pursuing an AAS degree or certificate, our students study a range of manufacturing-related disciplines which will prepare them for employment in manufacturing. For students who don't have time for an AAS degree but desire further education of a specific area, our students can earn a certificate in blueprint reading or computer numerical control.
What is Unique About Our Mechanical Production Technology Program?
Graduates of JJC have the opportunity to pursue a Bachelor of Science degree in programs such as Industrial Management offered at both Northern Illinois University and Southern Illinois University.
What Are My Career Opportunities?
Graduates would be qualified for jobs with starting salaries of approximately $35,000 per year with benefits, and be in demand nationwide because of thousands of unfilled, high-paying, secure jobs in the high tech world of manufacturing.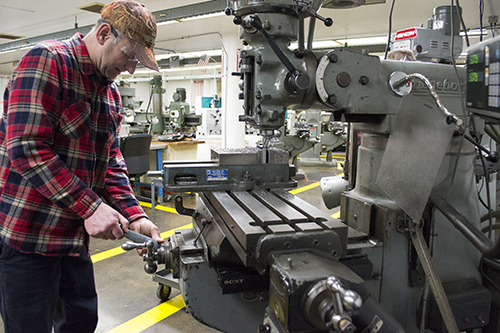 Want to learn more about our program?
Fill out the form below to receive your Mechanical Production Technology program sheet.
hbspt.forms.create({ portalId: "487869", formId: "bcb28d3b-e579-4484-8165-bd988d53a46e" });